Jun 14th 2022

Posted by David Peveto
Free RPG Day is back in a big way at Mox Boarding House! Come to any Mox location on the weekend of June 25th – 26th! Pick up free accessories, tools, minis, books and more in celebration of Free RPG Day, while supplies last. We'll have goodies from Paizo, WizKids, Privateer Press, Darrington Press, Modiphius, Foam Brain Games, and many more!
While getting into the Free RPG Day spirit, Mox Boarding House will have limited-time sales on select TTRPG books and accessories and will give guests who come by a chance to win some great free prizes! All weekend long, Warlock Tiles from WizKids and the Dungeons & Dragons Rules Expansion Gift Sets including the beautiful alt cover edition will be 50% off.
Each location will be giving away 2 copies of the Dungeons & Dragons Curse of Strahd Revamped box set and one copy of the Dungeons & Dragons Rules Expansion Gift Set with the alt covers! You just need to come in and ask to be a part of the contest, provide your contact information, and a winner will be randomly pulled the following week.
Read the full terms and conditions below, and good luck with the contest! See you on June 25-26!
- See you at Mox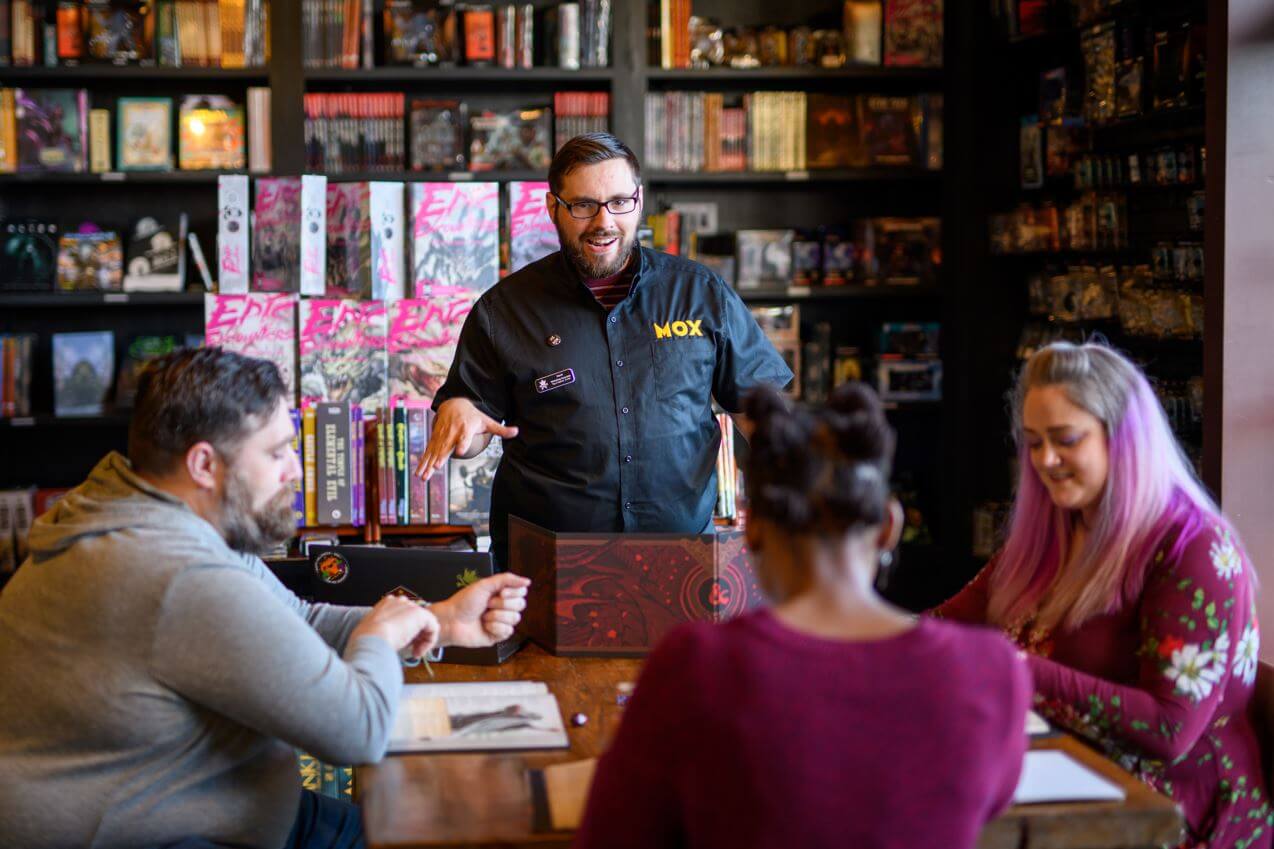 ---
Terms and Conditions
Mox Boarding House is the promoter and sponsor of this promotion – 220 West Mercer Street, Suite 500, Seattle, WA 98119.
All eligibility requirements
You must be 13 years or older to enter the giveaway.
You must visit a participating Mox Boarding House location during standard operating hours on June 25-26 and have correctly filled out the relevant entry form with your name, email address and phone number.
No purchase necessary to enter the giveaway.
No entries received after the conclusion of the listed end date and time will be eligible.
One entry per guest, and guests may not fill out additional entries for those not in attendance. Violation of this rule will be grounds to be disqualified from the giveaway.
Mox Boarding House will randomly select 1 winner for each prize from each store. Winners are not allowed to request a specific prize or ask to change the prize they won.
Each location will be giving away2 each of:
Dungeons & Dragons - Curse of Strahd Revamped– MRSP $99.99
Each location will be giving away 1 each of:
Dungeons & Dragons - Rules Expansion Gift Set (Alt Covers)– MRSP $169.99
Cash or store credit cannot be awarded instead of the prize.
Odds of winning are based on the number of entries throughout the event.
Employees of Mox Boarding House or Card Kingdom are not eligible to win.
All entrants must be able to pick up the prizes directly from the store they won from, or have a representative pick up the prizes in-store for them. Mox Boarding House will not be able to mail or deliver prizes to the winners. Winners have 7 days from being informed of their selection to pick up their prize. If they cannot pick up their prizes within that 7-day window, they will be considered void and left over prizes will be given away to another contestant via another random drawing.
The contest begins at 10:00:00 am on Saturday, June 25, 2022 and ends at 11:59:59 pm on Sunday, June 26, 2022.Winners will be selected randomly based on participation approximately 2-5 business after the contest closes. By entering the contest, each participant is giving Mox Boarding House the right to reach out to them directly and publish their first name as the contest winner on Mox Boarding House's social platforms. No other private information will be shared without explicit permission from the winner.
If you would like to request a list of winners of prizes greater than $25 in value, please mail us at 5105 Leary Ave. NW Seattle, WA 98107 and address it to the Mox Boarding House In-Store Sales and Marketing Associate.
Winners are responsible for applicable state or federal taxes.
This promotion is in no way sponsored, endorsed, administered by, or officially associated with Free RPG Day, or Wizards of the Coast.