May 1st 2023

Posted by Jason Krell
It's a new month, which means you May want to hear about our latest Mox Spotlight: 1985 Games. We're particularly excited to highlight these awesome folks no only because they're local to our Portland location, but also because we're collaborating with them for some custom accessories you're sure to love! You can get them all May long at Mox, along with 10% off any 1985 Games products. Let's highlight the details first before we get too far ahead of ourselves.
We All Melt Shirt
Everything is fleeting, from your D&D campaign to the dice you roll with. However, this awesome shirt should last you a long time! This is one of 1985 Games' most popular shirt designs, but we're throwing a Mox twist by picking the color AND sticking our logo on the back. It's the perfect way to remember how important it is to enjoy games while they last.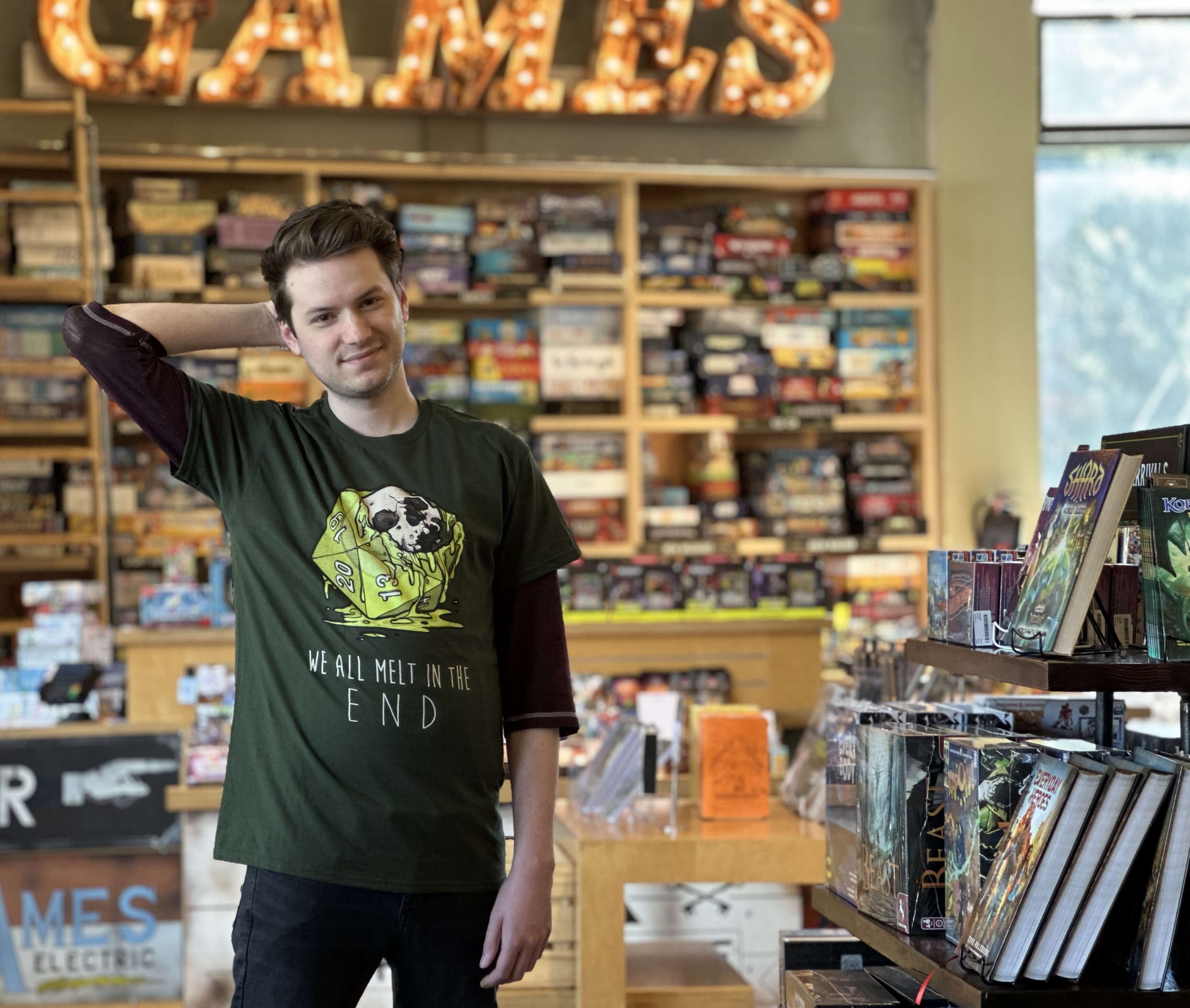 Do you miss the nostalgia of the 80s? Have you developed an extreme appreciation for the vibe of Netflix's Stranger Things? And are you a big fan of anything Mox-related? Then good news! This brand new set of dice will look similar to these Ruby Red ones — except they'll be red with gold sparkles and a custom, Mox-branded packaging! And while we can't control the law of probability, you'll look great rolling these whether it's a critical success or failure.

If you're super tired of knowing exactly what you're getting, can we instead tempt you to put your dice in fate's hands? The good news is, no matter what you end up with, they will be a fantastic edition to your growing collection. Plus, this will also come with a special, Mox packaging!
What was that shopkeep's name again? It's so hard to keep track. And who rolled highest for initiative? We're not sure, but you'll never forget again with these handy notepads. You can keep track of your personal journey or keep a handle on how many spell slots you have left. Whatever your needs, you'll always remember as long as you keep these on you.

Tired of adventuring on a little white board drawn up by your DM 10 minutes before the session started? Well, 1985 Games can help everyone out with this vast collection of diverse terrain pieces. Whether you're swashbuckling in "the pirate adventure" or exploring a forgotten dungeon deep underground, these will have you covered.
Being the DM is a lot of work, and sometimes you don't want to miss the forest for the trees. So instead of stressing about all the details, let 1985 Games fill in the blanks for you! These decks are perfect in a pinch during a busy week or even when you have plenty of time to prepare. They're full of beautifully illustrated characters you can plug right into your campaign seamlessly. Heck, you can even make a game of it alongside your players for when it's time to choose a new adventure. All we know is that the good times are only a card draw away!
---
That's all for now, but remember these products, and others, are 10% throughout May! And don't miss your chance to get these exclusive, Mox-branded items while you can at Mox Seattle, Mox Bellevue and Mox Portland. You can also sign up for our newsletter here for regular updates on upcoming sales, events and news.
Otherwise, we'll see you at Mox!