Sep 26th 2022

Posted by Nelly Steiner
We're excited to announce a give-away of donated MTG products from an anonymous community member! Mox Bellevue is giving away a Dragonshield Blue Binder and slip case, a pack of 18 pocket pages, five Ultimate Guard Collector's Albums, and five 50-count 19 pocket page binders via our Discord Server. Keep reading to learn how to get in on the action!
How to enter!
On Monday 26th of September by 5pm we'll post a fun MTG themed question to our Magic The Gathering channel on Discord, you will have until Friday September 30th at 11:59pm to submit your answer and enter to win. We'll randomly choose 6 winners and contact them on Discord via DM by the end of the weekend (10/02/22). No purchase or additional forms necessary.
Read the full terms and conditions below, and good luck with the contest!
-See you at Mox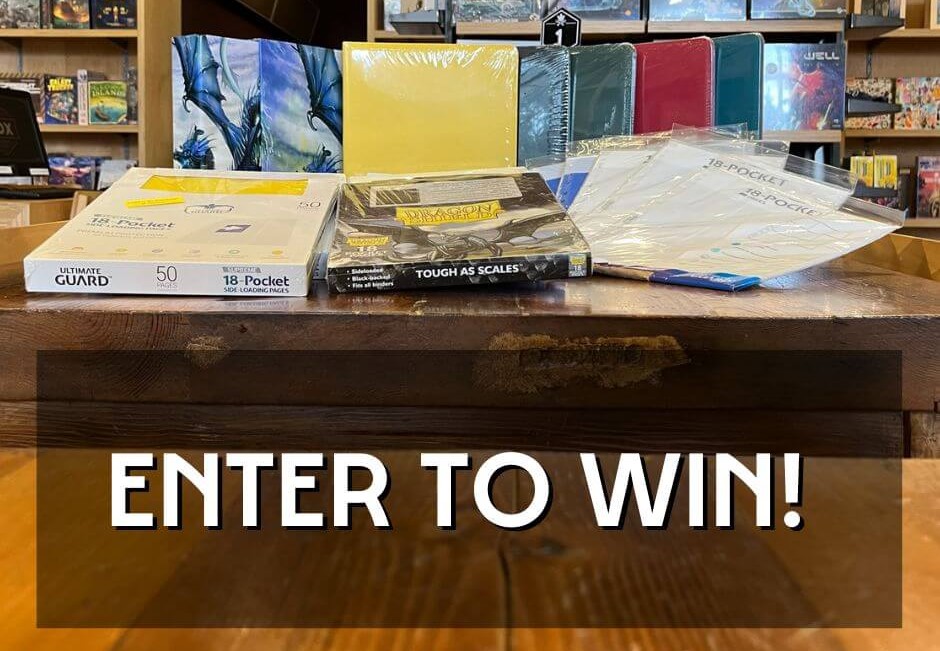 Terms and Conditions
Mox Boarding House is the promoter and sponsor of this promotion – 220 West Mercer Street, Suite 500, Seattle, WA 98119
All eligibility requirements:
You must be 13 years or older to enter the giveaway.

You must have answered the question in the Magic The Gathering Discord post in the Mox Bellevue Discord server by the end of the competition, 11:59 PM on September 30, 2022.

Only one entry per person. 
No purchase necessary to enter the giveaway.

No entries received after that date and time will be eligible.

Random.org will be used to randomly pick 6 winners. Entrants cannot win a prize more than once.
One winner will receive: 
One Dragonshield Blue Binder and slip case – MSRP $34.99 and a pack of 19 pocket pages – MSRP $27.99
Five additional winners will each receive: 
One Ultimate Guard Collector's Album – MSRP *$29.99 and a 50-count 18 pocket page binder – MSRP $24.99
Cash or store credit cannot be awarded instead of the prize.
Odds of winning are based on the number of entries throughout the event. Employees of Mox Boarding House or Card Kingdom are not eligible to win.
All entrants must be able to pick up the prizes in-store, or have a representative pick up the prizes in-store for them. ID will be checked when prizes are picked up to verify the winners identity. Prizes must be picked by 10/16/22 after that date the prizes may be otherwise distributed. Mox Boarding House will not mail or deliver the prize to the winner. Winners are void if they are not able to pick up the prize in store.
Winners will be selected randomly based on participation. By entering the contest, each participant is giving Mox Boarding House the right to reach out to them directly and publish their name as the contest winner on Mox Boarding House's social platforms. No other private information will be shared without explicit permission from the winner. 
If you would like to request a list of winners of prizes greater than $25 in value, please mail us at 13310 Bel-Red Road #200, Bellevue, WA 98005, and address it to the In-Store Sales and Marketing Associate.
Winners are responsible for applicable state or federal taxes.
This promotion is in no way sponsored, endorsed, administered by or associated with Facebook, or Discord.
*MSRP for this product is estimated, as it is no longer in production.