Mar 1st 2022

Posted by Nick Rauzi
With Winter ending and the warmer weather approaching, it is a great time to expand your imagination with both Fantasy and Science Fiction adventure. We're excited to announce this month's Mox Spotlight featuring Paizo! Publisher of the award-winning Pathfinder Roleplaying Game, Pathfinder Adventure Card Game, Starfinder science-fantasy roleplaying game, as well as numerous board games and accessories.
In the 15+ years since its founding, Paizo has received more than 100 major awards and has grown to become one of the most influential companies in the hobby games industry. Pathfinder and Starfinder are roleplaying games that feel like a love letter to character creation and world building. Every new release for these games adds additional content to be used by both players and Game Masters alike.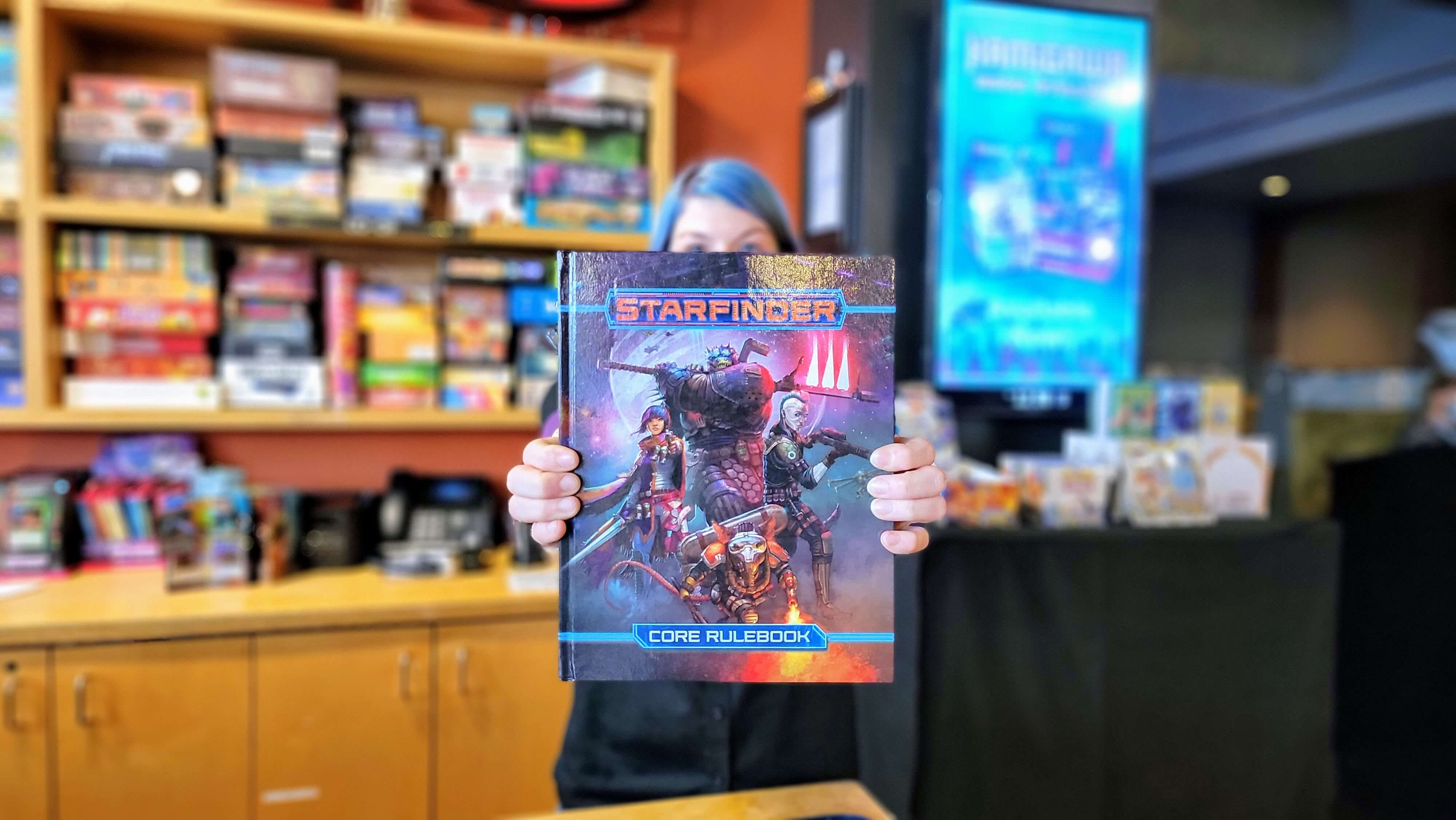 ---
Pathfinder 2nd Edition Core Rulebook

The Pathfinder 2nd Edition Core Rulebook is one of the best core rulebooks in the industry. It has over 600 pages with all the rules that both players and GM's need to get started building their own worlds. Including the epic high fantasy setting of Golarion in the Age of Lost Omens.
Pathfinder 2nd Edition Bestiary

Monsters, monsters, monsters…. Every good RPG needs enemies to combat, be it an intellectual mage bent on ruling a nation, or a rampaging beast running through a town. With multiple volumes the Pathfinder Bestiary books keep adding new and wild obstacles to your game table.
If you're looking for an epic space opera RPG look no further than Starfinder. Space combat and magic combine as players can make their way through world after world of alien races and mystery. This excellent Core Rulebook features all the options and rules to get you started on your own space odyssey.
Where Pathfinder has its Bestiaries Starfinder has its Archives. All the beings, creatures, and critters you can fit in space are offered in these volumes. Each book offers a breadth of new challenges and opportunities for encounters in the dark of space.
Both Pathfinder and Starfinder alike have Pawn Boxes! These are double-side printed, stand-up figures, of characters and monsters that the GM can use to add more immersion to the game. Each line of Pawn Boxes offers literal hundreds of standees with fantastic art from the books. These minis are also super easy to store for those who don't have the storage capacity for plastic miniatures.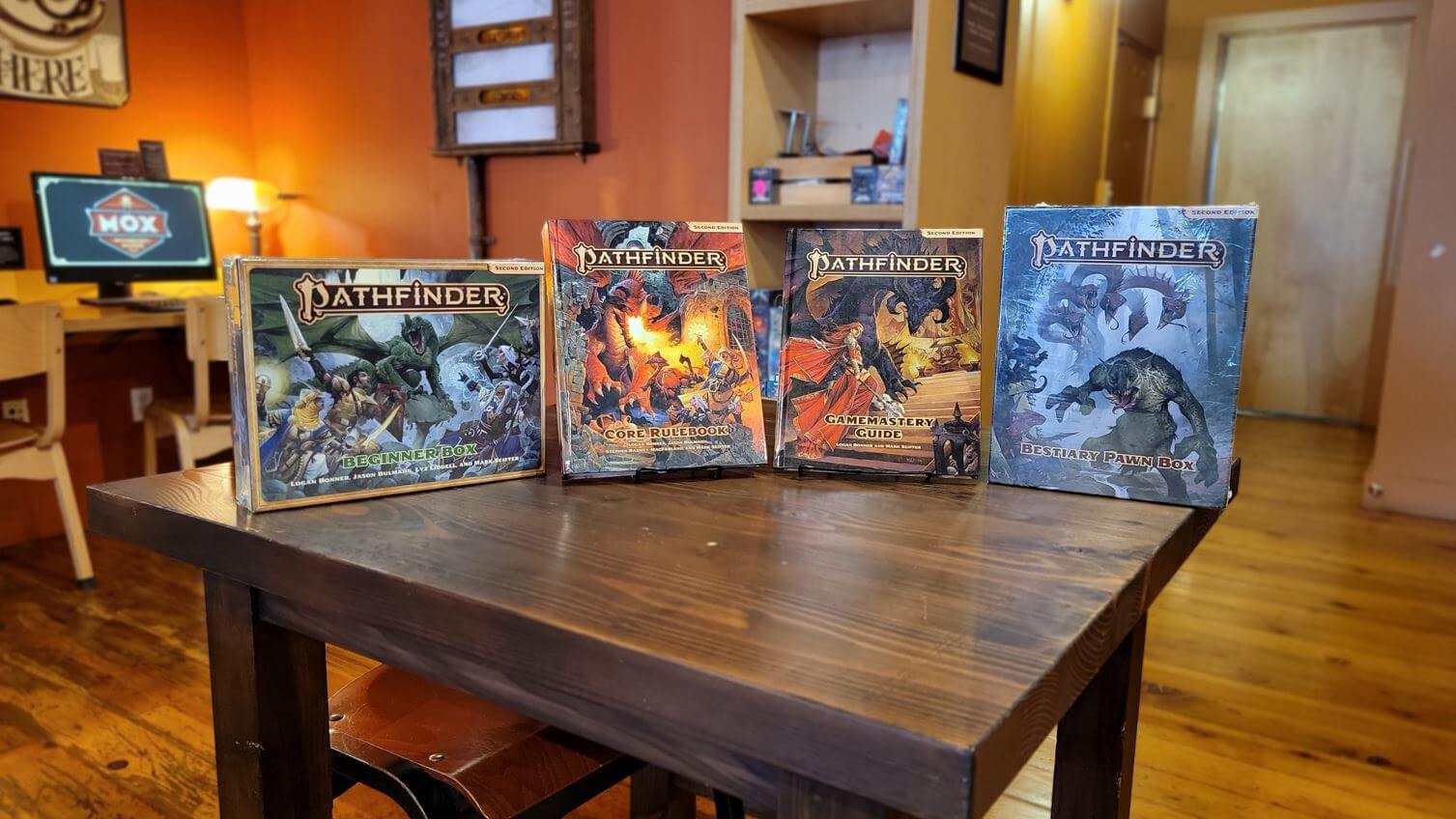 ---
Quick Fire Interview with Mike Webb (Paizo Vice President of Sales and E-Commerce)
Is broadening the Pathfinder name into more tabletop games something Paizo is planning on continuing to do in the future?
Golarion is a big world, and there are lots of stories to tell. Pathfinder: Level 20 and Goblin Firework Fight are just the first of several games you'll be seeing more of soon. The key is doing it well and hitting key market segments – from party games to intrigue to any of the other themes one might find in a world full of adventure.
Paizo has an amazing community of fans and gives them great opportunities to be part of playtesting for new editions or rulesets in development. Can you speak to that?
Thank you! We have really enjoyed the community that the worlds have built over the years, and value the feedback of that community as we work to develop the future stories we tell and how we tell them. That feedback has been instrumental in making products better, and we continue to incorporate it where we can!
How do you think digital online play is going to change in the next 5 years? Does Paizo have any plans or currently available online tool sets that support digital play of your titles?
Virtual Tabletop space was a literal sanity-saver for many of our fans over the last few years, and as many more people have adopted that style of play, the platforms have continued to grow and cater to segments of the fan base. We have expanded our support and relationships with those in the VTT community, even as we have partnered with Herolab for character creation tools; and Roll20, Foundry Virtual Tabletop, Astral TableTop, Fantasy Grounds, and d20Pro as fully supported VTTs. We were excited to announce a partnership as well with Demiplane to create Pathfinder Nexus, a digital toolset and game companion. We think the electronic frontier is wide open for tabletop gaming, and are committed to support of play wherever fans of our worlds want to gather.
What is your favorite part of the process in adding more content into your games?
Just like real worlds, ours evolve over time. We are telling stories that are relevant to those who play, and creating thoughtful challenges for groups to solve together. Seeing how the worlds have grown even as the real world around us has changed is exhilarating for me. We are not just recreating the fantasy of ages gone by, or getting trapped in tropes and style of the past, we are creating, changing and morphing a world full of complex beings with complex goals. Of course it is going to change over the years.
Can you name a point in time that you really saw a major change in the role playing game industry, and what did that change bring about?
I think that the launch of d20 in 2000 opened up a new avenue for fans and artists and storytellers to utilize their talents and creativity in support of telling even better communal stories. It was a moment that opened up a wealth of possibilities that took form in everything from four color superhero stories to space opera, wild west to modern horror. And it opened up new ways to look at heroes and villains in fantasy. It is impossible to be a part of the industry there days without recognizing that revolutionary shift.
---
Find these products and many other Pathfinder and Starfinder adventures at Mox. Throughout March we're offering 10% off all Paizo products all month long. Our knowledgeable staff is happy to help you pick out your perfect next adventure for you and your group. And while you're in, grab some food and drink! 
-See you at Mox!