Sep 8th 2022

Posted by Nelly Steiner
Mox is back with another monthly Spotlight! This month, we're highlighting Big Potato Games – get ready for some epic pop culture games to hit our shelves. These games are all about making game night fun, energetic, and filled with laughter. Big Potato Games was established in 2013 but three friends in the Marketing Industry, they self describe their roles as "Dean looks after the numbers, Ben draws the pictures, and Tris writes the words".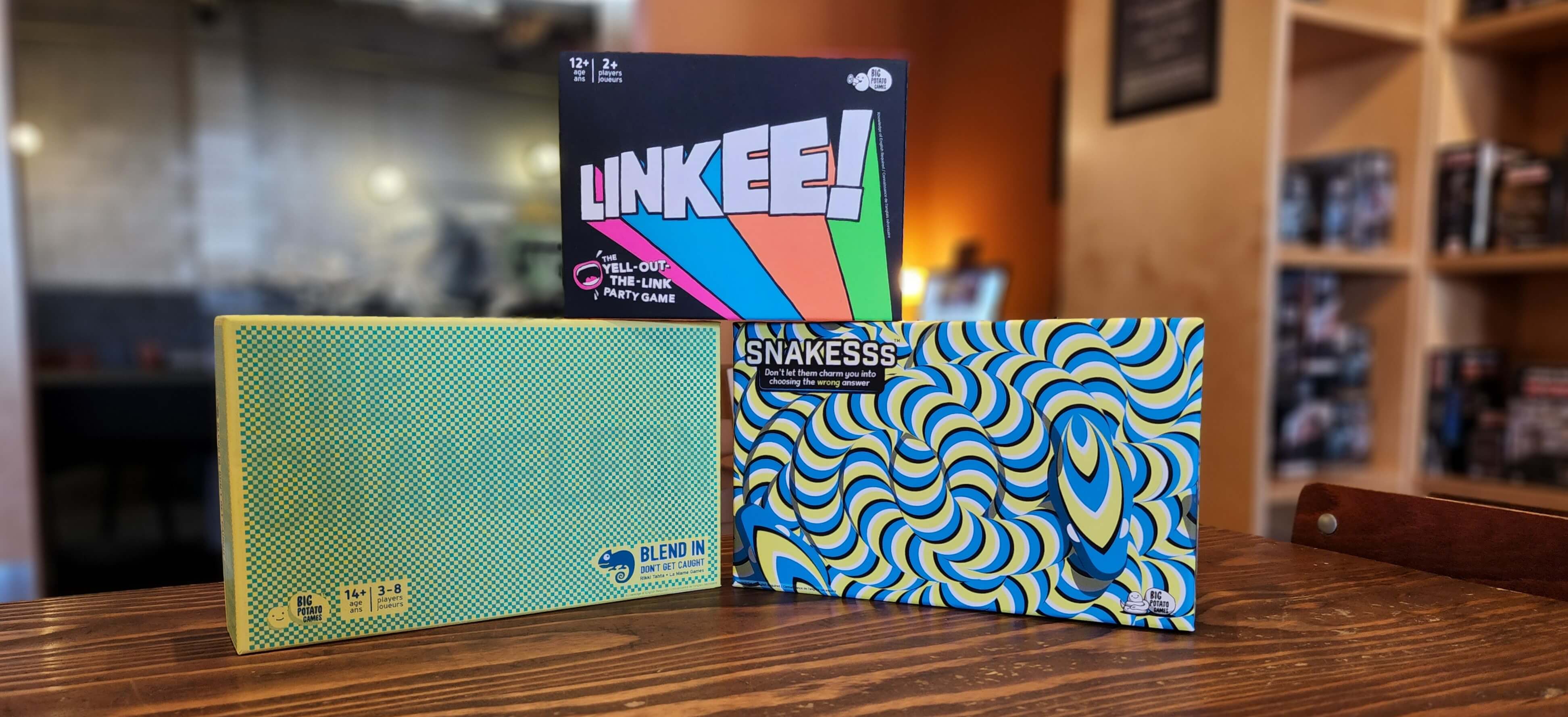 Blockbuster- This game is so cool and is actually packaged to look like a real Blockbuster movie case. Not only is this a super fun movie trivia game, it also comes with a buzzer!
Snakesss- Who doesn't love a fast moving deduction party game? In Snakesss you can't simply trust everyone at the table, some are snakesss. You have two minutes to discuss the answers to a multiple choice question, make sure to choose the correct one and don't let the snake charm you into the wrong one.
Linkee - This is a Big Potato Games best-seller and apparently one of Nick Jonas's favorites! This game is all about figuring out the links between keywords. A question master has a card with four words and poses four questions to the group that should help them figure out each word. Once a team has figured out the four words and come up with a word linking them all together and yell "LINKEEEEE" to win the round.
The Chameleon - Like a chameleon, make sure to blend in and don't get caught! The groups objective is to work out who the Chameleon is at the table, there is no trust and everyone suspects everyone else. Similar to A Fake Artist Goes to New York, in this game everyone but the Chameleon knows a secret word. The group that knows the word wants to give away just enough information to let each other know that they know the secret word, but not too much so the Chameleon doesn't figure out the word. The Chameleon wants to blend in and make sure everyone thinks they know the word too so no one suspects them, while frantically trying to internally figure out what the secret word is.
All these games and more are 10% off all month long, and keep an eye on the event calendars of Mox Seattle, Mox Bellevue, and Mox Portland for fun opportunities to learn these games firsthand!
See you at Mox!