Aug 6th 2021

Posted by David Peveto
Look, we know you've heard it so many times that it's a cliché, so we're going to just skip the "this year has looked different" or "we're in unprecedented circumstances" and get straight to the fun stuff. A lot of amazing games and products came out in the last 18 months. So, how about a weekend dedicated to all those great games you might have missed? Welcome to Mox Boarding House Seattle's Revisited Weekend!
We've filled the weekend of August 21-22 with events and opportunities to celebrate the Magic sets, board games, miniatures, and morat came out during the pandemic. Our full events calendar and signups can be found here, but here are some events you'll want to keep your eye on.

It's a Mystery to everyone…
Sponsored by Urban Family Brewing Co., we're hosting a 21+ Mystery Booster Convention Edition draft on Sunday, August 22. The draft will be $50 per person. (Note: we will likely NOT be able to charge this little for any future drafts of this set.) Space will be limited so sign up early if you want a chance to draft this very rare and exciting set.
Monsters and Vikings and Wizards, oh my!
Between January of 2020 and now we saw the release of 6 standard legal Magic sets. We were taken to planes of ice and Vikings, to the deepest underworlds, lands of monsters and beasts. We even ended up at a wizard school with a professor who looked like, but was definitely not, Liliana. And like most people out there we didn't get to draft those sets around a table, so we're hosting on-demand drafts all weekend! We'll have Throne of Eldrane and Strixhaven drafts firing on Saturday, with Kaleheim, Zendikar Rising, Ikoria, and Theros: Beyond Death drafts on Sunday.

The pandemonium hits its peak with the Pandemic Chaos Draft! Saturday at 6:00 pm we'll have a chaos draft with all 6 of these sets being given out randomly. We'll have increased prize support and we'll be giving away promo packs and a few Secret Lairs to those in attendance!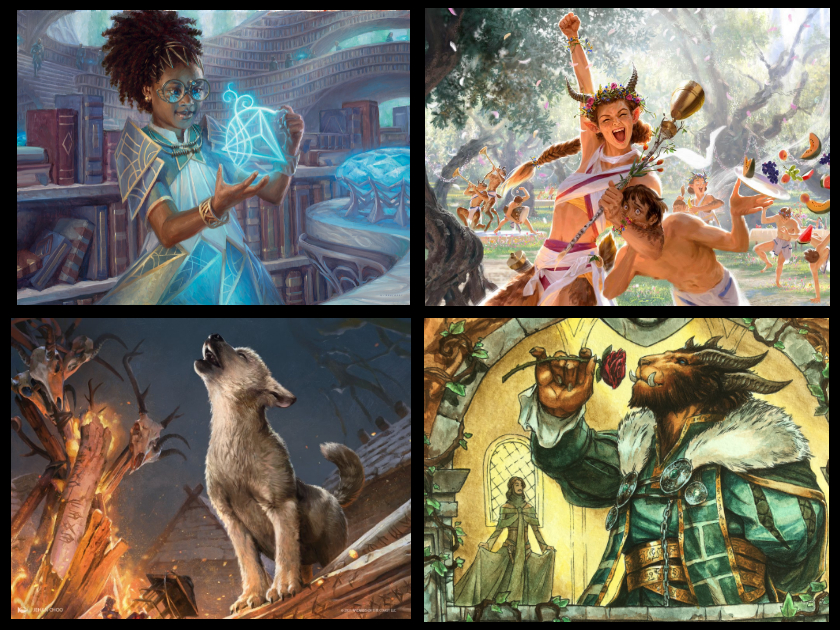 Board Game Sampler
It wasn't just Magic that kept coming during the pandemic. Several board games like Pendulum from Stonemaier Games, Calico from Flatout Games, Here to Slay from TeeTurtle, and more! Come out and give them a try. All-day Saturday, we'll have demo copies of tabletop games which came out in the past 18 months. Our staff will be on hand to help teach and talk you through the games, and if you try them in our restaurant while dining, you can buy the game for 15% off!
Mox: Revisited
As we're re-opening our store and expanding our hours, we're taking time to revisit what the Mox experience is like. We'll add events, and update our menu, maybe even try some wild and weird stuff. But the one thing which never changes is the amazing people who call Mox Boarding House Seattle their local game store. Mox is made better by you being with us, and we're so excited to welcome you all back around our campfire.
See you for Revisited!